DON'T PAY
FREE Credit Card Processing Fees for All Merchants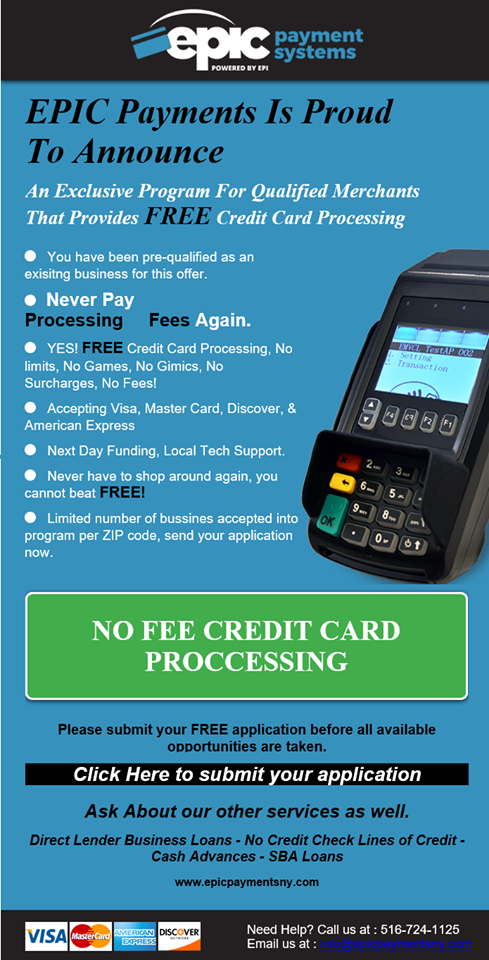 The Best Free Credit Card Processing and POS System Solutions Company in South Florida - Epic Payments United
Here at Epic Payments United, we are one of the leading Free Credit Card Processing Company in South Florida. We provide exclusive FREE Credit Card Processing program for all qualified Merchants with flexible pricing, accuracy, and integrity. We provide best customer supports within the payment industry. Our program accepts to all types of credit cards and debit cards. We process the payments online, in-store, through a virtual terminal or online invoicing system without high credit card fees which helps you to instantly enhance your business profitability. This is the best way to save your business money. You can reach us at 561-325-7538 for more information.
Free Credit Card Processing Program Benefits
Our Program Accepts all types of Credit and Debit Cards
We are BBB A+ Rated Processing Company
Best option for customers to pay in cash
All merchants can save money without raising prices and penalizing cash paying customers , No longer need to have a minimum purchase price
Excellent customer service, including phone and email support
PCI/EMV compliant*
How it works and Will Help You...
Nowadays everyone is using credit/debit cards for shopping. So, this is simple way for all merchants to save processing fees, For example : A customer wants to make a purchase product of $10 with credit/debit card, a small 3.5% fee is added to every credit /debit card's transaction whether it is swiped or manually entered.
If customer using credit card for purchase product $10 and swiped card. Our program would be add 3.5% additional fees( maximum limit is 4% ) then purchase would be $10.35 . Overall this will help to your business save money and extra pay fees. Also, Every process helps you to boost your business profitability.
And if anyone is paying with direct cash, then you will have to sell your product with exact amount as per the regular method. As per the analysis, Below are the industries which are using Free Credit Card Processing Program.
Gas stations
ATM's - Everyday millions of ATM transactions happen
Mobile Phone Carriers