Equipment
Epic Payments United offers the latest and the most effective Credit Card Processing and POS System Solutions in Miami and Florida. We offer credit card and POS systems that are fast, reliable, and secure. We offer low-cost and easy to integrate payment processing gateways for your business operations. Our advanced payment devices will improve the customer experience and cut costs.
If you want to get your business started with accepting credit cards but don't know how, contact us today at Epic Payments United. Our team of experts will help you choose the best equipment for your business environment and budget.
Exatouch
Exatouch is your full-featured point-of-sale solution. This powerful and scalable platform helps you manage operations, optimize payment acceptance, increase productivity and maximize operational efficiency. Exatouch provides the latest payments technologies such as EMV, NFC/Apple Pay™, and Contactless payments. It is running on a SQL database, it supports credit card processing and POS functions so you can accept payments from all your customers and keep track of transactions for better inventory control. This comprehensive POS solution is flexible and easy-to-use, as it is tailored to your specific business requirements.
Exatouch POS is a cloud-based point-of-sale (POS) solution and integrated hardware installed in your business. Exatouch is designed to streamline operations, improve the customer experience, and grow profits. The system includes all of the features you need to connect your business with customers and go paperless.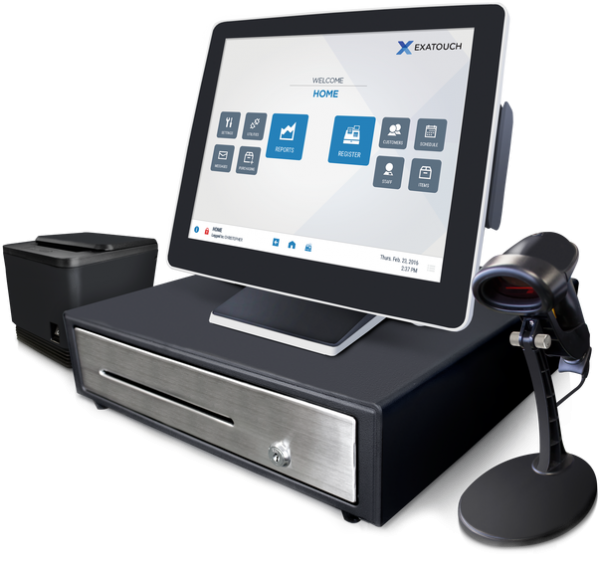 Clover
Clover is a revolutionary new POS system, bringing your business into the 21st century. It replaces your cash register, payment terminal, receipt printer, and barcode scanner with one easy-to-use product, saving you time and money on training costs. Clover also supports EMV and mobile payments, including ApplePay, AndroidPay, and SamsungPay. For retailers and quick service style restaurants that have multiple locations, Clover is a great option due to its consolidated reporting system that allows you to access reports online anytime from anywhere.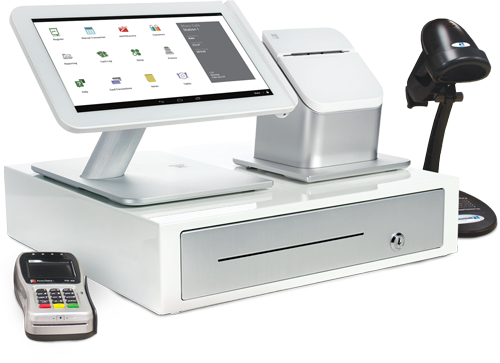 EMV and NFC Devices
EMV and NFC Devices: What Is It & How Does It Work?
EMV: EMV is a global system designed to combat fraud in credit card transactions. EMV stands for EuroPay, MasterCard and Visa, the three companies that first developed EMV. Since then, it has become a standard credit card security system used in many countries throughout the world.
NFC: Near-field communication technology is the buzzword in cashless payments today. The application, known as NFC, allows consumers to pay for purchases with a tap of their Smartphone or other NFC-enabled device. These days, you'll see NFC payment terminals popping up at fast food joints and grocery stores across the country.
Experience the future of payments with NFC-enabled devices by Epic Payments United. We are the brand you trust to bring you cutting edge technology, providing the most up-to-date equipment that enables you to use your Smartphone for payment transactions.
For your business to stay competitive, you must be fast, efficient, and secure. Epic Payments United's EMV and NFC devices connect to your existing point-of-sale system to provide a complete card processing solution. Our EMV chip cards will help you protect your business from fraud while enabling transactions via NFC devices.